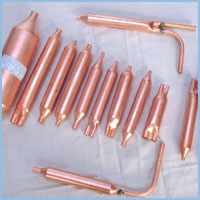 COPPER DRIERS are suitable for all Refrigerants made according to the Specifications of our clients, ranging from diameter 15.88mm to 41.27mm and wall thickness 0.51mm to 0.97mm based on requirements to burst pressure test. All driers are thoroughly sealed in either Aluminum Foil vacuum packing or capped in tins and into carton boxes to ensure long lasting operational readiness.
The most Advanced Ultrasonic Washing process meets your Cleanliness Requirements and prevents Oxidation.
Driers are Manufactured in Accordance to ISO 9001/9002 certification and are O.E.M. approved for all Refrigerants including for R134a and Hydrocarbon Application.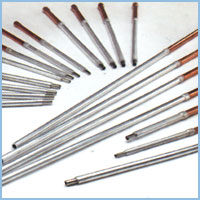 Strainers
STRAINERS are primarily used in room Air-Conditioners. The seamless copper body contained a 120 mesh or a 140 - 150 mesh screen assembly and are made according to client's requirement.
STRAINERS are packed in tins into carton boxes or into drums. Strainers are made in accordance to ISO 9001/9002 certification and are O.E.M. approved for their specific refrigerant application i.e., R22, R134a hydrocarbons and blends.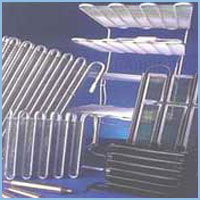 Connectors
CONNECTORS provide ready made link between copper and aluminum tube sections. Connectors are normally Supplied in straight lengths. Alternatively we can Pre - Bend to your specification and supply the Connectors with a layer of anti - humidity paint over the joint area.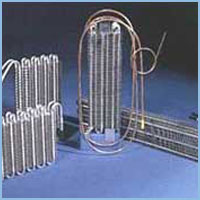 Evaporators
WIRE-ON-TUBE EVAPORATORS are designed for specific use on upright freezers and one combi refrigerators using static cooling refrigeration application. A highly efficient method of cooling the freezer sections of these products which becomes increasingly important as the U.S.A of R134a, hydrocarbon and other refrigerants Becomes more common.
Freezer systems are individually designed in Co-operation with customer's design team to suit each model and obtain maximum thermal performance with optimum energy usage.
The systems can be delivered with traditional zinc and lacquer protection or Kenmore's exclusive white finish setting new trends in the industry.
Kenmore Brazeway
All aluminum no-frost Evaporators are manufactured in a custom built between Kenmore and Brazeway incorporated world leaders in this technology. These Evaporators are again individually designed for each specific model of refrigerators or freezers by Kenmore brazeway's team at the technical center.
Used for dynamic (forced-air) cooling refrigeration application, they provide highly efficient no-frost units, which are throught, the world by major O.E.M.s. The all aluminum coated design provides a lightweight - totally recyclable evaporator , which minimizes the spaces used for components inside the refrigerator whilst maximizing thermal characteristics and efficiency.
No-frost units can come in a wide variety of shapes and sizes, often fitted with brazeways unique Copper/Aluminum Connectors , with or without heat exchangers A cumulators and defrost heaters.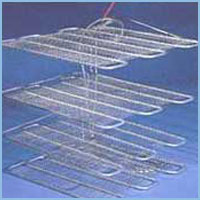 Accumulators
ACCUMULATOS/MUFFLERS prevent Refrigerant Fluids from Overflowing into the Motor and provide an extra measure of safety to the Compressor. Its Accumulators offer Inlet/Outlet dimensions, which are made according clients specifications and cleaned with the most advanced ultrasonic washing process. Accumulators are made in accordance to ISO 9001/9002 Certification and are O.E.M Approved.



Exchangers
HEAT EXCHANGERS are used in refrigeration appliance and can be supplied separately, or as part of the evaporator assembly. Copper heat exchangers features an external capillary soldered along its length - which offers excellent heat transfer characteristics. Various customer's requirements can be accommodated. A choice of diameter 6mm and diameter 8mm copper tube, with numerous end sizes are available to achieve the optimum flow rate.
Heat exchangers are manufactured in accordance with ISO 9001/9002 certification, are fully compatible with R134a and hydrocarbon refrigerants.